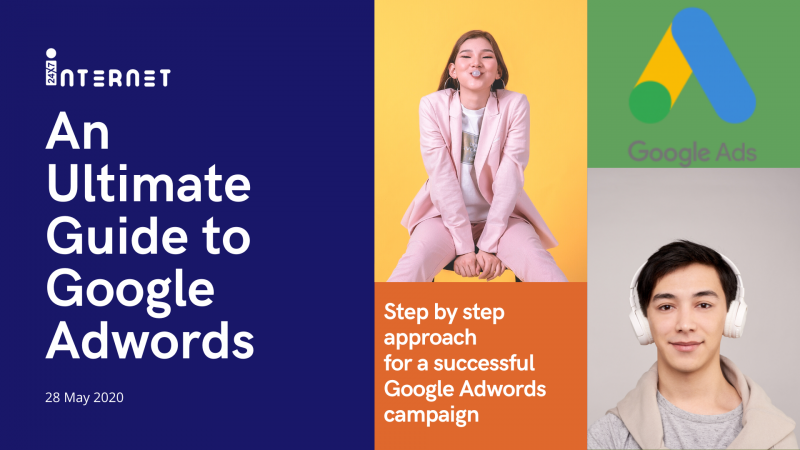 Thousands of businesses around the world are using Google Adwords to create a niche in the market. Attaining the top positions and maximizing ROI is what the brands are looking for. And why not? It is the world of investments and that is absolutely fair if you are investing in Ads.
Google Adwords if implemented correctly can help you get double the amount that you spend. Now the next question is why use Google Adwords? Why not use SEO to attain Top rankings? The role of SEO, however, cannot be neglected. SEO helps in earning bread and butter and is the base of digital marketing.SEO is a vital part and cannot be surpassed. But there is a lot of patience that it calls for. Google Adwords come to the aids of brands that are carving for immediate gains and who find it nearly impossible to compete with bigger brands.
Google Ads leverage online advertising by showing ads to the right audience who may be genuinely interested in your products and services.
STEP BY STEP APPROACH FOR A SUCCESSFUL GOOGLE ADWORDS CAMPAIGN
Precise Targeting
The first and foremost steps towards a successful GoogleAdwords campaign is targeting the right audience. Google Adwords provides you with the option to filter the audience as per geographic location, keywords, age, and time of the day. All these ingredients are considered vital for the success of the Google Adwords campaign.
Ad Copy
Content goes in Ad copy which persuades visitors to take action. Creative writers put in considerable effort to make the weave the content that is aimed at grabbing customer attention and finally leading to a much-needed segment i.e. sales. Words are counted everywhere. It is nothing but everything by marking or ruling your ads with sparkling content strategically driven towards sales. But, it is not always necessary that it will lead to success. So, keep trying with Ad Copy that is directed towards the client's attention and helps in increasing prospects and sales.
Targeting devices
Google Ads can help you select devices on which you want your campaign to be displayed. You can choose among Desktops, mobile phones, and tablets or target each device separately by adjusting bids. Furthermore, there is also an option to target specific devices like iPhone or Windows. You can adjust bids high or low as per your requirement
Pay Per Click
This is one of the best advantages of using Google Adwords where businesses have to pay for clicks rather than impressions. This is the way Google Adwords comes to the aid of businesses and charge them only when the visitor visits the website.
Assessing performance
You cannot get the desired result until and unless you measure the performance. You must be clear about where you are heading and how well the campaign is performing. You can monitor the performance of ads and keep track of visitors that visit and click your Ads.
Setting up for PPC campaigns
To get the things set right, you need to clear what objectives, you need to be clear about your objectives. You need to keep in mind below things to ensure that PPC campaigns are performing well
Drive leads
Generate Sales
Email Sign-ups
Triggering revenues
Gaining brand visibility
Increasing traffic
Identify the key areas of your Google Adwords Campaign first and then proceed accordingly.
Devising Landing pages
Landing pages are crucial for lead generation. An irresistible offer can result in sales. Relevancy is the factor that matters here. Well, optimized landing pages should be relevant to Google Ads. Make sure to devise a landing page whose ad text is compelling enough to drive in leads and resolves the chief factor that is sales.
Summing up
Have you jotted down the key ingredients of a successful Google Adwords Campaign? Want to kick start a Google Adwords campaign? You can leave a comment. We will be happy to help you.
We believe in rendering the best to our clients! Get ready for your next Successful Google Adwords Campaign!